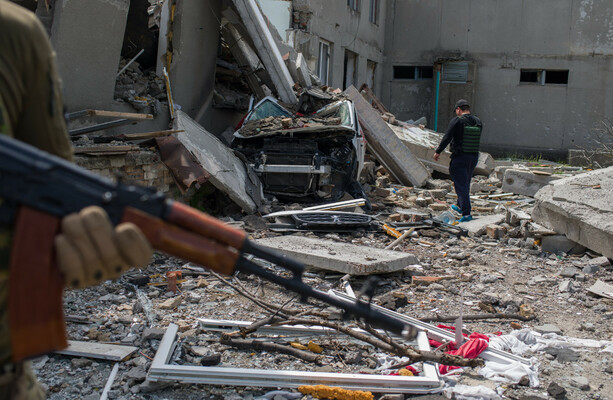 At least two dead after 'massive' Russian shelling in Ukrainian city of Sloviansk
Updated 19 minutes ago
AT LEAST TWO people were killed and seven others injured when Russian forces pounded the eastern Ukrainian city of Sloviansk, local authorities said, as Moscow steps up its assault on the Donbass region.
Mayor Vadim Lyakh said in a Facebook post that "heavy shelling" hit Sloviansk, which had a population of around 107,000 before Russia invaded Ukraine more than four months ago.
The mayor, who had urged residents hours earlier to evacuate, advised them to take shelter in shelters.
Pavlo Kyrylenko, governor of the Donetsk region, which includes Sloviansk, said on Telegram that two people were killed and seven others injured in shelling which the mayor said targeted the city's market.
"Once again, the Russians are intentionally targeting places where civilians gather. This is outright terrorism," Kyrylenko said on Telegram, also urging local people to evacuate.
The barrage targeting Sloviansk underscored fears that Russian forces are positioned to advance further into Ukraine's Donbass region, a predominantly Russian-speaking industrial area where the country's most experienced soldiers are concentrated.
Sloviansk has come under rocket and artillery fire during Russia's war in Ukraine, but shelling has intensified in recent days after Moscow took the last major city in neighboring Lugansk province, Lyakh said.
"It is important to evacuate as many people as possible," he warned this morning, adding that the shelling had damaged 40 houses on Monday.
The Ukrainian army on Sunday withdrew its troops from the town of Lysychansk to avoid being surrounded.
Russia's defense minister and Putin said the city's subsequent capture gave Moscow control of all of Lugansk, one of the two provinces that make up Donbass.
The Ukrainian president's office said the Ukrainian army was still defending a small part of Lugansk and trying to gain time to establish fortified positions in nearby areas.
The question now is whether Russia can muster enough forces to complete its capture of Donbass by also taking the province of Donetsk.
On Sunday, Ukrainian troops gathered outside a bombed-out building in Sloviansk.

Source: Michal Burza
Ukraine's army general staff said Russian forces also shelled several towns and villages in Donetsk around Sloviansk over the past day, but were pushed back as they tried to advance towards a town located about 20 km north of the city.
South of the city, Russian forces were attempting to push towards two other towns and shelling areas near Kramatorsk.
Fighting raged in and around Ukraine's eastern Donbass region today as Russian troops tried to build on recent battlefield gains, while NATO pursued historic bids from Finland and from Sweden.
With the war well into its fifth month, Kyiv's allies today pledged to support Ukraine through what is expected to be a long and costly recovery, and agreed on the need for broad reforms to strengthen the transparency and fight against corruption.
Talks in Switzerland learned that rebuilding war-torn Ukraine would cost at least $750 billion.
But on the battlefield, the conflict continued to wreak havoc, with Ukraine's presidency reporting Russian shelling and missile fire in several areas overnight.
"Russia is here forever"
An official of Russia's powerful FSB security services has taken over as head of government in the Moscow-occupied Kherson region of southern Ukraine, Kremlin-installed authorities announced today.
Sergei Yeliseyev, until now deputy head of government in the Russian enclave of Kaliningrad, "has become head of government in the Kherson region", said Vladimir Saldo, who heads the Russian labor administration.
His government takes office today, he added.
A graduate of the FSB Academy, Yeliseyev, 51, served in the security services in unspecified functions, according to the Kaliningrad region website.
"Ukraine is forever in the past for the Kherson region. Russia is here forever," the Moscow-based authorities said on Telegram.
In Moscow, the Defense Ministry reported that in the past 24 hours Russian forces have targeted the city of Kharkiv with "high-precision" weapons, killing up to 150 Ukrainian servicemen.
The attack follows shelling in Donetsk, which Russian President Vladimir Putin yesterday ordered his troops to continue attacking as they attempt to take full control of Donbass.
In Brussels, NATO chief Jens Stoltenberg announced Sweden and Finland's ratification process as new members of the military alliance were officially launched.
Antonio Guterres, UN Secretary-General, delivers a statement via video during the National Statements Series at the Ukraine Recovery Conference in Lugano.

Source: AP/PA images
"With 32 nations around the table, we will be even stronger and our people will be even safer in the face of the greatest security crisis in decades," he said in a joint press release with ministers. of Swedish and Finnish Foreign Affairs.
Sweden and Finland have both announced their intention to abandon decades of non-aligned military status and join NATO following Russia's invasion of Ukraine in February.
'Beholden'
To the southwest, in the Moscow-occupied Kherson region, Russian troops were deploying helicopters and various artillery pieces to try to stem the Ukrainian counterattacks.
"Ukrainian aviation, missile and artillery units continue to strike enemy depots and invading concentrations, especially in the Kherson region," the Ukrainian Armed Forces added.
#Open Journalism
No news, bad news
Support the review
Your contributions will help us continue to deliver the stories that matter to you
Support us now
The city of Kherson, located near Crimea annexed to Moscow, was the first major city to fall to Russian forces in February.
Moscow has since launched a so-called Russification campaign, attempting to introduce the rouble, issuing Russian passports and opening a first Russian bank in late June.
Ukrainian President Volodymyr Zelenskyy yesterday reiterated calls for an increased supply of weapons from the West so that Kyiv can maintain the resistance and its counter-offensives to regain lost territories.
At the meeting of Ukraine's allies in Lugano, he also urged the democratic world to unite to rebuild his country.
Leaders of dozens of countries, international organizations and businesses today signed a declaration setting out principles and priorities for the reconstruction effort.
Prime Minister Denys Shmyhal told the stimulus conference that the estimated $750 billion stimulus bill is expected to be partly funded by the confiscated assets of Russia and Russian oligarchs.
"The Russian authorities started this bloody war. They caused this massive destruction and they should be held accountable," he said.
© AFP 2022with reports from the Press Association