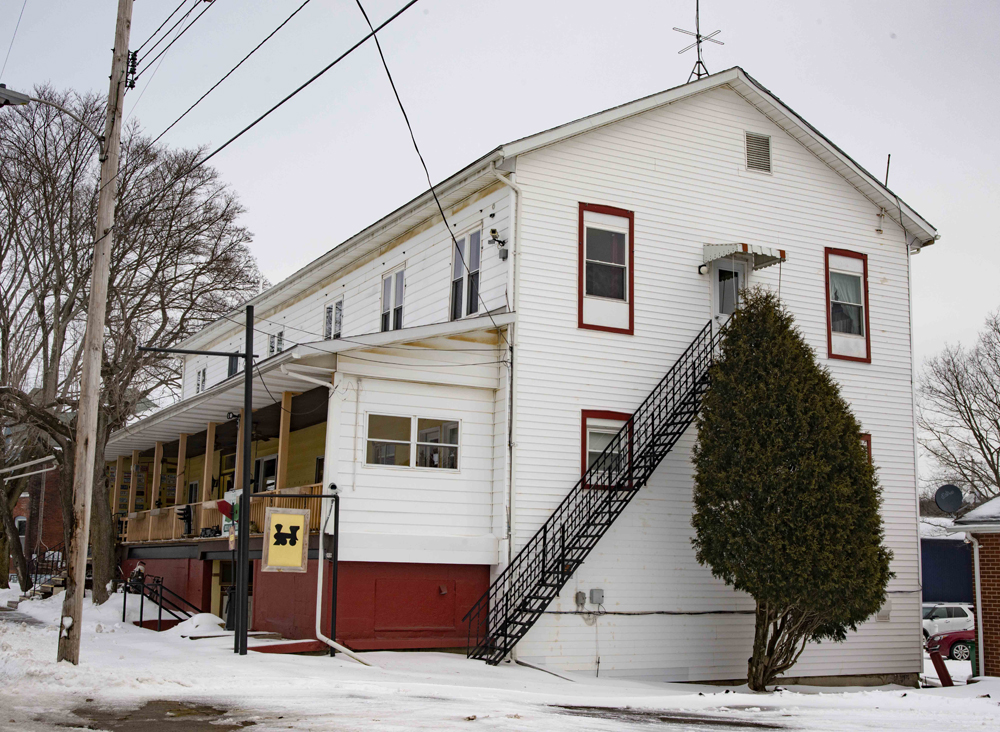 Landmark Station Inn in Cresson, Pennsylvania, is sold
---
CRESSON, Pa. — The Station Inn, a longtime bed and breakfast in western Pennsylvania, has been sold to Pittsburgh-area Alex and Leah Lang.
Inn founder Tom Davis died Oct. 5 [see "Station Inn owner Tom Davis, 90, dies," Trains News Wire, Oct. 13, 2021] and it remained open as the family deliberated its future. Davis had been a landlord and innkeeper for 28 years.
Facing the Pittsburgh line of the Norfolk Southern, the inn's porch is a favorite haunt of generations of photographers and train watchers. It is one of a long chain of railroad sites along the old Pennsylvania Railroad Mainline on both the east and west slopes of Allegheny Mountain Summit.
Counting Assistant Trips and Amtrak's New York-Pittsburgh Daily Pennsylvanian passenger train, Cresson sees at least 50 train movements per day. Additionally, RJ Corman's former PRR Clearfield Lines exchanges traffic with NS at Cresson.
A frequent guest at the hostel over the years, Lang has deep roots in the railroad industry. He is chief information officer for Transtar LLC, which owns and operates seven former U.S. Steel Corp. switching railroads. in six states, including the Union Railroad in Pittsburgh. He was previously vice president of equipment and technology at Carload Express, Inc., also based in Pittsburgh. He is active in the Traffic Club of Pittsburgh and the American Short Line and Regional Railroad Association.
In a statement posted on the Inn's website, Stew and Joe Davis wrote: "We are delighted that our main goal in the sale has been achieved: our brother's dream will continue, the Inn will continue to operate as a B&B for railway fans. "
They described the sales process this way: "[It] included a tendering and proposal phase followed by evaluations, selection and then negotiation with buyers. Proposals were evaluated based on the hostel's vision (30%), plan to achieve the vision (40%), price (25%) and other (5%). There were six interested and qualified buyers and proposals were received from four of them.
They chose the Langs, they said, because:
— They are well-informed railwaymen.
— They have had a personal and professional relationship with Tom for over 20 years.
— Mr. Lang has close ties to the railroad community.
— Ms. Lang is passionate about the inn.
"As longtime guests of the inn, they know what was and what is. We believe they have the ideas, means and energy to not only restore the hostel to cohesive and comfortable operation, but also to further develop its possibilities.
In addition to the Station Inn, nearby railroad fan sites include the Railroaders Memorial Museum in Altoona and its affiliated Horseshoe Curve National Historic Landmark, the Tunnel Inn B&B and Tunnels Park & ​​Museum in Gallitzin, the Railroad Platform Watercress Viewing, Carney's Crossing near Lilly, Portage Museum Station and Cassandra Overlook.
More information about the Station Inn is available on its website.